We specialize in: Farm Equipment, Estates, Business Liquidations, School Closeouts, Industrial, Automobiles, Heavy Trucks, Heavy Equipment, along with Small Construction as well.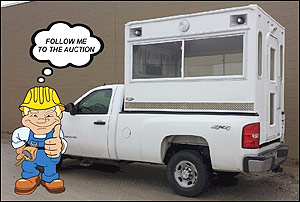 However, we are willing and able to accommodate most sale requests. Our services are custom-made to fit each customer's specifications. We have professional equipment including; the Columbus Auction Facility, the Cincinnati Auction Facility, mobile offices, wireless PA systems and trucks/trailers. We also have the know-how needed to provide you with a quality auction experience through our knowledgeable and well-trained staff.
The Columbus Auction Facility is conveniently located in central Ohio; 7mi. to Circleville, 12mi. to Lancaster, 15mi. to Canal Winchester, and only 30mi. to Downtown Columbus. Our new Cincinnati Auction Facility is conveniently located between Dayton & Cincinnati (I71 & I75 East to West).
Several times a year we auction all types of construction, excavating, farm equipment, commercial transportation and other desirable items at the Columbus Auction Facility / the Cincinnati Auction Facility. These facilities allow our clients assets to reach local, regional, US, and worldwide buyers onsite and via a 3rd party internet bidding service. Check out the auction calendar for our next auction.
Internet Only Auctions provide a unique service which allows our clients to auction their assets right from their own farm, shop, yard, or business location. Yes, the asset stays in your possession until it sells. No transport fees, No-sale fees or upfront fees charged. Here at Dunn Deal Auction Co. we believe, "when you get paid, we get paid, and not before!"
Real Estate Auctions are brought to you by Richard Jenkins Associate Real Estate Auctioneer, Key Realty Real Estate. Dunn Deal Auction Co. is a full service auction company meeting and exceeding all our clients and customers needs through dedication. Rich is one of central Ohio's leading real estate auctioneers. He strives to better himself everyday while his market knowledge yields "Key Results" for many clients and customers.
We are able to mobilize a large following of auction goers from all over the world, so we bring the market to your auction. We offer effective, high-impact advertising/marketing techniques that include: *post cards to previous customers, catalogs, full-color brochures, flyers, signage, internet advertising, direct mailings, print ads (i.e. newspapers, magazines, and specialty periodicals), and etc.*
Leave the auction bustle to us, and be there shortly after the sale to receive your monies and detailed summary report. This site can only provide you a brief overview of what we can offer. If you are interested in knowing more about having an auction it is imperative you email or call us. We will take the time to answer all your questions in detail and to your satisfaction. We look forward to your inquiry.